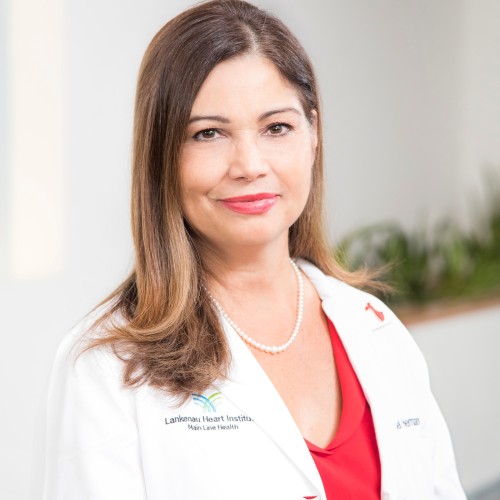 Maribel Hernández
Board Member
For Dr. Maribel Hernández, cardiology isn't just a career. A member of the Lankenau Heart Institute and the largest female cardiology team in the region, her commitment to women and heart disease is a personal passion.
Dr. Hernández was born in San Juan, Puerto Rico. She received her Bachelor's Degree at Yale University and her Medical Degree at Stanford University. She did her residency in the Harvard Hospital System in Boston and her fellowship at the Hospital of the Medical College of Pennsylvania and the Lankenau Hospital. Dr. Hernández is Board Certified by the American Board of Cardiovascular Disease and Clinical Electrophysiology. Dr. Hernández is also the Clinical Assistant Professor of Medicine, Thomas Jefferson University.
Serving as a cardiologist for 25 years and on the medical staff of Main Line Health for over 15 years, Dr. Hernández specializes in managing patients with heart rhythm disorders. She serves as the Medical Director of Lankenau Heart Institute's Women's Heart Initiative, supporting awareness, education and prevention of heart disease in women within the community, and has been involved with the American Heart Association (AHA) for over 15 years. She was recognized as the AHA's first ever 'Woman of Heart' in 2013 and was on the cover of Philadelphia magazine's Top Doc issue in May 2010. Most recently, Dr. Hernández was elected to represent Lankenau Heart Institute as the 2017-2018 AHA Go Red for Women 'Heart Champion' to help share the 'Go Red' message within our community.
Dr. Hernández has a long standing passion for fighting heart disease with an emphasis on personal outreach to the Latina community. As a Latina woman, Dr. Hernández clearly understands the unique heart health risk for the individuals of Hispanic descent.
She has participated in Go Red Corazon, (an AHA initiate focusing on outreach to Latina women) served as guest speaker at the annual AHA Latina Luncheon and was the recipient of the AHA Philadelphia Chapter's 2014 Por Tu Corazón Ambassador Award for her extraordinary, long-standing passion and commitment to building healthier lives free of cardiovascular disease and stroke in the Latino community.