Board Members
Lisette Agosto
Board Member
In her 20+ years as an educator, Lisette has been privileged to work in various K-16 settings. She began her career in education as a bilingual Kindergarten teacher. Since then she has worked as a middle school math and science teacher, and a high school math teacher before stepping into administration as an ELL Coordinator, a Regional Director, a grants administrator, and as an Assistant Principal. She is currently serving as a Principal in Philadelphia where she was born and raised and has been a mentor to aspiring school leaders.
Committed to lifelong learning, she also teaches future Early Childhood Teachers at Harcum College. Lisette has a bachelor's degree in business administration from Drexel University and has a master's degree and a doctorate from Holy Family University. Her spare time is dedicated to ensuring that her students are afforded equitable opportunities, fueling her passion for education.
Jose Aguirre
Board Member
Jose Aguirre is a Hispanic American who emigrated from Nicaragua to the United States in 1978 during the Sandinista revolution. Growing up in San Francisco then later in Miami, Jose's strong Hispanic culture remained prevalent within his family. Now residing in Drexel Hill, Jose serves as Senior Manager of Governmental & External Affairs for PECO where he leads a team responsible for key stakeholder relations with municipalities, community organizations, business corridors, and elected officials at the local and state level in an effort to align with key initiatives and policy throughout the five county PECO service territory.  In 2020, Philadelphia City Council presented Jose with a Citation, honoring him for being awarded the Hispanic Heritage Month Gala Award for his contributions on improving the quality of life of the many immigrants who live and work in the city of Philadelphia. In 2017, Jose also collaborated with Councilwoman Maria Quiñones-Sánchez in helping raise over $25,000 for victims of Hurricane Maria.
Prior to his role Governmental and External Affairs, Jose managed PECO's Act 129 Energy Efficiency Commercial Incentive Program and Compressed Natural Gas program. Jose also held a seat as board member to ACLAMO, a Delaware Valley non-profit organization assisting low income Latinos in Montgomery County and, was a member of the Mexican Modernism Advisory Council for the Philadelphia Museum of Art. Jose was also recognized as of the Delaware Valley's Most Influential Latino by Impacto magazine in 2018. Jose holds a bachelor's degree in Business Marketing from Almeda University and served four years as president for OLE (Organization of Latinos at Exelon).
Robert Ahrens
Treasurer
Mr. Ahrens is the Senior Vice President – Commercial Banking Team Leader at Univest Financial Corporation. Previously, he served as Senior Vice President, Market Manager at Santander Bank, North America. He began his career with Santander in 2011, serving as Market Manager for Philadelphia, Southern New Jersey & Greater Bucks/Montgomery counties, servicing a portfolio of $500MM with a team of 10 Relationship Managers and support staff. Before joining Santander Bank NA, Mr. Ahrens served for 10 years at Fulton Financial Corporation leading both commercial banking teams and special assets teams. In 2015 he was awarded the 40 Under 40 recognition by the Philadelphia Business Journal. He is part of the Executive Leadership Team on the board of the American Heart Association of Philadelphia, and began his tenure on the board of Congreso de Latinos Unidos in January of 2017. Mr. Ahrens holds a dual Bachelor's degree in Finance and Economics from Bucknell University, and a Masters in Finance from Carl-Ruprecht Heidelberg University, Germany. Born and raised in Haddonfield, NJ, he currently resides in Jenkintown, PA with his wife and son.
Bridgett Battles
Board Member
Style Strategist. Diversity and Inclusion Thought Leader. Transformational Speaker. Planet Shaker.
With a presence and a passion that is larger than life, Bridgett Battles is a woman whose purpose knows no bounds. While she holds several professional titles, she is known for an immeasurable impact that cannot be defined. From transforming the images of highly successful women to igniting stages as a speaker, Bridgett immediately elevates every space—and life—that she steps into.
As the go-to style and image strategist for executives and CEOs, Bridgett shows women how to develop a powerful presence. With an unmatched gift for introducing women to their highest potential, she has helped dozens of women to identify their signature style, which in turn, translates into their substantial income. Once Bridgett helps a woman to define her disruptive edge, her confidence skyrockets—and so does her bank account. Masterful at what she does, Bridgett can teach any woman to command a room with a feminine fierceness that leaves a mark on every room she enters.
A sought-after authority on diversity and inclusion in fashion, Bridgett leads conversations on innovation, equity and empowerment as a keynote speaker and panelist. She also regularly lends her passion to nonprofits that share her commitment to coaching women to success.
Born to fight battles, Bridgett is the epitome of resilience. Having bounced back better than before from every trial thrown her way, her life is a testimony to turning pain into promise. She pursues. She perseveres. She prospers—and she takes every woman she meets with her.
Oscar Budejen
Board Member
Oscar Budejen is a successful global business executive with extensive experience as a strategist, growth enabler and marketer with world-class organizations like Procter & Gamble, The Coca-Cola Company and Aramark.
Oscar brings extensive B2C/B2B worldwide experience across multiple industries including sports, media, entertainment, food & beverages, retail, facilities, healthcare, education, beauty care, travel, technology and non-profit. He has a proven track record of driving accelerated profitable revenue growth through building global brands, portfolio management, marketing, leading edge innovation, business transformation, evidenced-based consulting and data analytics.
Over the years, he has established performance-based partnerships with world renown organizations like Disney, Starbucks, Coca-Cola, PepsiCo, Cleveland Clinic, FIFA and NBA. He has also led change management and organizational transformation initiatives worldwide.
Over the past 7 years he has served as VP Strategy, Growth & Customer Experience at Fidelum Partners. He provides research-based consulting & professional services to clients with their growth acceleration strategies, transformation, marketing and customer experience initiatives. Including among his projects is the development of the Orlando Health evidence-based patient, team members and medical staff experience platform and the development of go-to-market strategies for organizations like Mars Drinks, First Student and Ahold Delhaize's Food Lion.
Prior to joining Fidelum, he worked 12-year at Aramark where he was a member of the Executive Council and had P&L responsibilities for their Healthcare and Higher Education businesses. He was also responsible for Aramark's retail business including 2,311 restaurants, 429 convenience stores and 393 coffee shops which experienced yearly double-digit growth under his leadership. Additionally, he led the development of growth strategies across Aramark Food, Hospitality and Facility Services portfolio in partnership with McKinsey & Company, Bain & Company and the Boston Consulting Group.
Prior to joining ARAMARK, he spent 5-years with The Coca-Cola Company, working in the Global Marketing Group. He led the Coca-Cola's worldwide marketing team in the development strategies and revenue accelerating programs with global entertainment and sport icons such as, The Walt Disney Company, National Basketball Association (NBA) and FIFA. He started his career at Procter & Gamble where he spent 9-years in Brand Management.
In addition to his accomplished global business career, Oscar has always had a passion broadcasting sports. He is currently the main play-by-play commentator for the Phillies Spanish radio broadcast and the color analyst for the Eagles Spanish radio broadcast. He has two decades of sports broadcasting in the Hispanic market in the U.S. and across Latin America covering MLB, NFL, College Football, and the NBA. He has broadcasted in Spanish multiple Super Bowls, World Series and NBA Finals.
Oscar is also a passionate advocate for the development of the Hispanic community and have served as an advisor for multiple Hispanic organizations including:
Congreso a nationally recognized Latino public service organization, Philadelphia, PA
The National Hispanic Corporate Council, Dallas TX
Hispanic Business Development Center at the Mexican American Business Chamber, Atlanta, GA
Oscar was born in Caracas, Venezuela. He received his MBA from Mercer University, Stetson School of Business & Economics and he currently resides in Philadelphia, PA with his family.
Julio A. Correa
Vice Chair
Julio A. Correa was born and raised in Bogotá, Colombia and is a Sales Manager at Emerald Performance Materials. Previously, he worked for over 13 years with Dow Chemical Company as an Account Manager and formerly Rohm and Haas Company in multiple roles including project/program management, manufacturing and operations management as well as account management. Julio has also dedicated many years to the Hispanic community, both as a volunteer and as a recruiter of Hispanic talent. He is an active participant of the Hispanic Latin Network at Dow and a former member of the board for the Hispanic Diversity Network at Rohm and Haas. He has also participated in many recruiting and development activities with the Society of Hispanic Professional Engineers (SHPE), the University of Puerto Rico Mayaguez campus and the University of Pennsylvania. He has been part of the Congreso family for over 12 years and has helped develop, maintain and strengthen the relationship between Congreso and Dow Chemical. He has volunteered in numerous occasions and is a founding member of the Corporate Advisory Board (CAB). Mr. Correa officially joined the board of Congreso in November 2014. He has a BS in Mechanical Engineering and a Masters in Business Administration both from Drexel University in Philadelphia.
Richard DePiano
Board Member
Richard J. DePiano, Jr. is currently the Chief Executive Officer, General Counsel and Director of the Escalon Medical Corp. Mr. DePiano, Jr. has been a director, since June 2013 and has served as Chief Executive Officer of the Company since September 2013. He was appointed Chief Operating Officer and General Counsel in December 2006 and assumed the title of President in January 2008. Mr. DePiano, Jr. currently serves as a member of the Board and Treasurer of the Montgomery County Industrial Development Authority, is a member of the Board of Directors of Senior Health Properties-South, Inc., is a member of the Board of Directors of The Rehabilitation Group of Pennsylvania, serves as a member of the Board of Directors of the Amoore Group Inc and is on the Drexel University President's Counsel and School of Biomedical Engineering, Science and Health Systems Executive Advisory Council. Mr. DePiano, Jr. served as a member of the Board of Directors of Association of Corporate Counsel – Greater Philadelphia Chapter (formerly known as DELVACCA) and served as its President from 2008 – 2009. Mr. DePiano, Jr. also serves as a member of the nominations committee, as member of the law school initiative committee, and as a member of the pro-bono committee of Association of Corporate Counsel – Greater Philadelphia. Prior to joining Escalon, Mr. DePiano Jr. was in the private practice of law. Mr. DePiano Jr. received a Bachelor of Science degree from Villanova University and a Juris Doctor degree from Widener University School of Law.
Maribel Hernández
Board Member
For Dr. Maribel Hernández, cardiology isn't just a career. A member of the Lankenau Heart Institute and the largest female cardiology team in the region, her commitment to women and heart disease is a personal passion.
Dr. Hernández was born in San Juan, Puerto Rico. She received her Bachelor's Degree at Yale University and her Medical Degree at Stanford University. She did her residency in the Harvard Hospital System in Boston and her fellowship at the Hospital of the Medical College of Pennsylvania and the Lankenau Hospital. Dr. Hernández is Board Certified by the American Board of Cardiovascular Disease and Clinical Electrophysiology. Dr. Hernández is also the Clinical Assistant Professor of Medicine, Thomas Jefferson University.
Serving as a cardiologist for 25 years and on the medical staff of Main Line Health for over 15 years, Dr. Hernández specializes in managing patients with heart rhythm disorders. She serves as the Medical Director of Lankenau Heart Institute's Women's Heart Initiative, supporting awareness, education and prevention of heart disease in women within the community, and has been involved with the American Heart Association (AHA) for over 15 years. She was recognized as the AHA's first ever 'Woman of Heart' in 2013 and was on the cover of Philadelphia magazine's Top Doc issue in May 2010. Most recently, Dr. Hernández was elected to represent Lankenau Heart Institute as the 2017-2018 AHA Go Red for Women 'Heart Champion' to help share the 'Go Red' message within our community.
Dr. Hernández has a long standing passion for fighting heart disease with an emphasis on personal outreach to the Latina community. As a Latina woman, Dr. Hernández clearly understands the unique heart health risk for the individuals of Hispanic descent.
She has participated in Go Red Corazon, (an AHA initiate focusing on outreach to Latina women) served as guest speaker at the annual AHA Latina Luncheon and was the recipient of the AHA Philadelphia Chapter's 2014 Por Tu Corazón Ambassador Award for her extraordinary, long-standing passion and commitment to building healthier lives free of cardiovascular disease and stroke in the Latino community.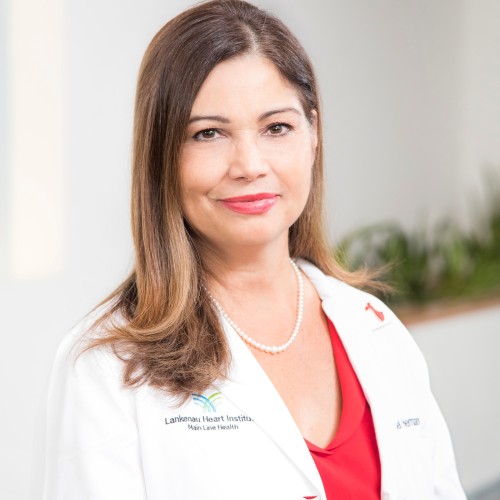 Mustafa Rashed
Board Member
Mustafa Rashed is the president & CEO of Bellevue Strategies and serves as the firm's manager of day-to-day operations and is responsible for operations, technology, HR and vision. The firm relies on its vast network of relationships with elected officials, community leaders, and media to deliver tangible results for their clients. Bellevue prides itself on being able to do good work by investing in projects we are passionate about and believe in.
Some of those projects have included:
Successfully lobbying Philadelphia City Council to restore full funding for the African American Museum of Philadelphia in the city's Capital Budget for the fiscal year 2021.
Secured RACP funding to support the Village at Haverford Square– a two-phase development that will bring 166 units of housing to 36th Street and Haverford Avenue, along with 31,145 square feet of commercial space anchored by a "full-service" supermarket.
Leading the coalition to advocate for and successfully pass the Philadelphia Beverage Tax to fund PreK, Community Schools and Rebuild (the city of Philadelphia's $500 million dollar capital works program).
In response to the Opioid Crisis and the damage it is doing to the state's foster care system – building bipartisan support in the General Assembly to introduce the Adoption and Foster Care Tax Credit for children in PA's child welfare system. When passed, it will be the first of its kind in the nation.
Securing city and state public funding and Federal Preservation Historic Tax Credits for one of the jewels of Southeastern PA – Smith Memorial Playground to support their capital campaign to revitalize free space for families and children.
Working with city and state elected officials and key stakeholders on legislation to advance Schuylkill Yards, a $3.5 billion development that will include 4.6 acres of residential office, research, and retail space and will transform the University City neighborhood in Philadelphia.
Prior to this role, Mustafa served as the Vice President of Media and Brand Strategy of the Bellevue Communications Group, a subsidiary of Wojdak & Associates, one of Pennsylvania's premier government relations firms. He has also worked for media organizations NBC10, KYW Newsradio and the Philadelphia Public Record. His work in advocacy includes political campaigns, corporate and nonprofit clients. He utilizes his ability to turn challenges into opportunities and his extensive experience and leadership in the industries to provide a plethora of benefits for his clients' along with the competitive edge they need. Rashed's work experience is diverse which gives him the ability to unite his passion for advocacy to provide Bellevue's clients with innovative direction and exceptionally positive results.
A veteran of the United States Navy, Rashed served with distinction in Operation Desert Storm in Iraq and Operation Restore Hope in Somalia. Rising to the rank of Petty Officer Third Class, he received numerous commendations for achievement and leadership. Rashed has also always been invested in the educational and entrepreneurial opportunities for youth and minorities. As such he serves on the Board of Directors of the African American Museum in Philadelphia, PCCY, on the Dean's Council at Temple University's School of Tourism & Hospitality Management, on the Leadership Council of the Philadelphia Global Identity Project, a member of the National Urban League's Philadelphia Chapter, Horizons Greater Philadelphia, Congreso de Latinos Unidos and a member of the Board of Trustees of the Free Library of Philadelphia. He also serves on the Pennsylvania Early Learning Investment Commission, a partnership of business leaders dedicated to making the success of every child in Pennsylvania a top priority.
Rashed is an advocate of public education and a strong municipal public school system. He's a graduate of the Philadelphia school system (John Bartram, H.S). He holds a Bachelor of Science Degree from Temple University.
A frequent media commentator on politics, social and community affairs, Rashed is a guest columnist for Philadelphia Magazine and Al Dia. You can find his brief musings on Twitter @mustafarashed.
Fernando Torres
Board Member
Fernando J. Torres is a VP of operations Greene, Tweed & Co. a global manufacturer of high-performance products, and integrated material solutions for the Aerospace, Semiconductor and Energy generation industries. He is responsible for developing and implementing the corporation's global operations from product development thru customer delivery across all facilities in the US, Europe and Asia.
He holds a Bachelor of Science in Aerospace Engineering from Arizona State University as well as the Master in Business Administration from The Pennsylvania State University. In addition to his business role, he has a desire for helping others. Throughout his years in the region, he has held different positions at several nonprofits organizations where he drives his passion for the advancement of the
Latino communities, voting rights, equality, science and technology, and more importantly, his passion of helping others in need.
He recently completed his term as the President of Casa de Venezuela whose mission is to support the advancement of the Venezuelan community in the Greater Philadelphia Region. He is also a Trustee at the American Helicopter Museum and Educational Center where he works to celebrate the pioneers of aviation and encourage and inspire future generations of engineers, scientists, innovators, pilots, and inventors. A couple years ago, he worked with other members of the community to launch the community advisor board for Congreso de Latinos Unidos. Lastly, in 2016 he worked with other latino organizations in our region to Launch Coalicion Latina de Philadelphia (COLAPHI) with the purpose of strengthening the participation and the political organization of the Latino community to exercise their democratic right thru education, communication and transparency.